HOW TO
CHOOSE THE RIGHT CORPORATE ART FOR YOUR BUSINESS
NEED HELP FINDING THE RIGHT ART FOR WORK?
Maybe you're looking for work office decorating ideas and don't know where to begin. Or maybe you're an old pro at finding the right corporate artwork, and are hoping to broaden your company's art offerings. With a wide range of corporate office décor to choose from, plus curated collections to help narrow things down, you're sure to find what you're looking for. Sign in to shop our catalog or call 1-866-303-3780 for personal assistance.
We've got millions of prints, in just about every size, shape, style, and color imaginable. Our search tools make it easy to find exactly what you need, from classic works to exclusives you won't find anywhere else. We can also step in and offer assistance, at any stage in the process. Our art experts can custom curate a unique collection based on your specific needs, and provide personalized service that's second to none.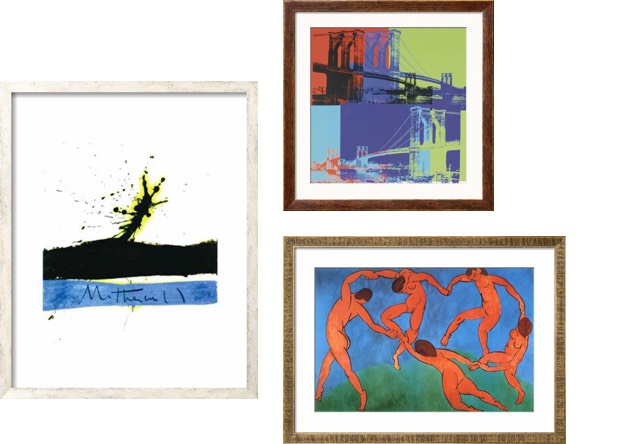 SEND THE RIGHT MESSAGE WITH THE RIGHT ART
A big part of any successful business is knowing your customers. Everything about your office — from the chairs, to the light fixtures, to the art on the walls — is a chance to send a message to everyone who walks through your door. If your business is a high-end law firm, catering primarily to an affluent client base, you're going to want corporate office artwork that makes them feel like your firm is doing well. Museum masters, watercolors, and classic pieces finished in larger frames and mats would fit the bill nicely.
On the other end of the spectrum,we also have a huge selection of photography, pop art, and abstract art that can help create an entirely different vibe. And while some spaces might call for minimalist art, there are others where bold colors and larger "make a statement" pieces are the perfect fit. If adding a sense of calm to a space is your goal, you might try stress-relieving impressionist images. We also have options like canvas art, art on metal, and wood mount art for when your walls call for something out of the ordinary.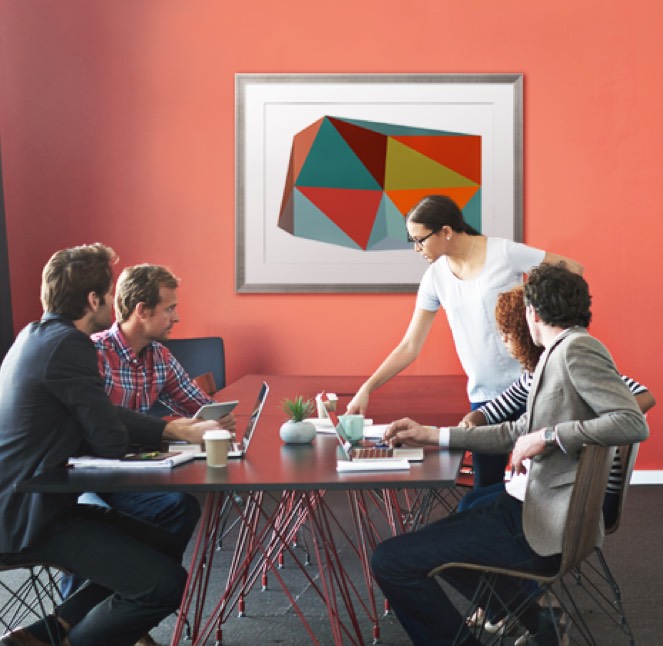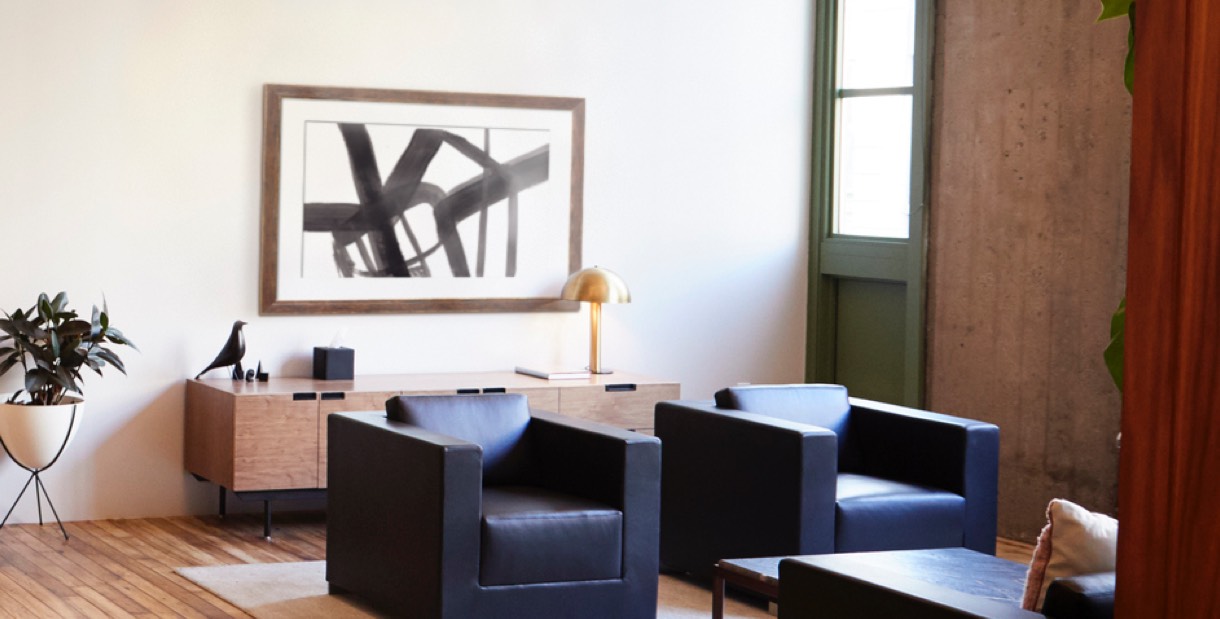 A GREAT FIRST IMPRESSION
What's the first thing you want people to see when they walk through the door? Your front desk, lobby, or waiting area is often the first chance you get to make a first impression. As mentioned above, attention should be paid to setting the right tone. So when choosing art for these important areas, keep in mind that your clients and customers will likely spend more time there than you will. This might mean choosing art that's a little bit more interesting, or that says something about the kind of company you are.
Conference rooms are another area where those visiting your office will spend a lot of time. Lots of business gets done in conference rooms, from hard-boiled negotiations to presentations of marketing campaigns, and just about everything in-between. Think about the room's primary use, and then let the work art decorating ideas start from there.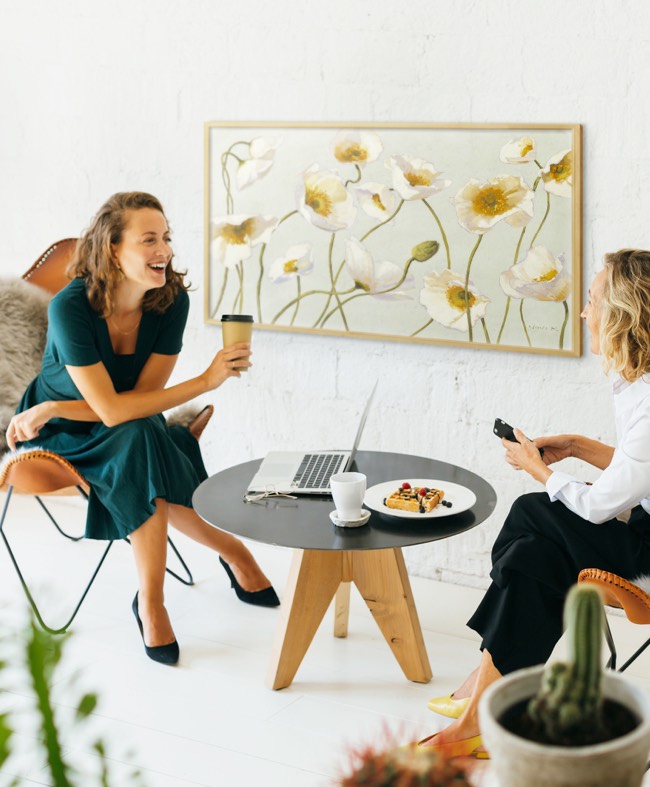 CHOOSING ART FOR OFFICES AND CUBICLES
A corporate environment probably means your executives aren't adorning their walls with Star Wars posters and Homer Simpson cardboard cutouts (D'OH!). If employees have their own art to hang, that's fine. And we can certainly help get it finished with the right frame. But if you're looking for help picking the right pieces, we can work with you to find exactly the style you're looking for. Other employee spaces can be a little trickier, as they often don't have much actual wall space. We have lots of tips on how to decorate your cubicle, including workplace posters and artwork in a number of sizes, shapes, and styles.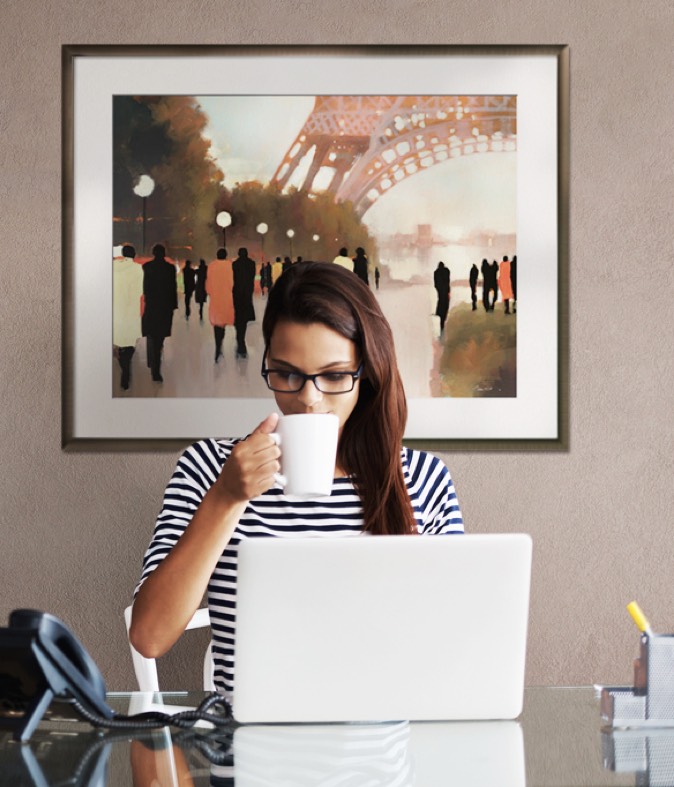 THE RIGHT ART CAN BOOST PRODUCTIVITY
It's hard to say exactly why the right business wall art can help employees work smarter, but a study by Exeter University has shown it to be true. Test subjects were asked to do an hour of work in four different environments ranging from the bare basics to an enhanced workplace with art and plants. And guess what? Employees worked 15% quicker in enhanced environments. Besides, who wants to stare at blank walls all day? We can bet your clients, visitors, and employees don't.